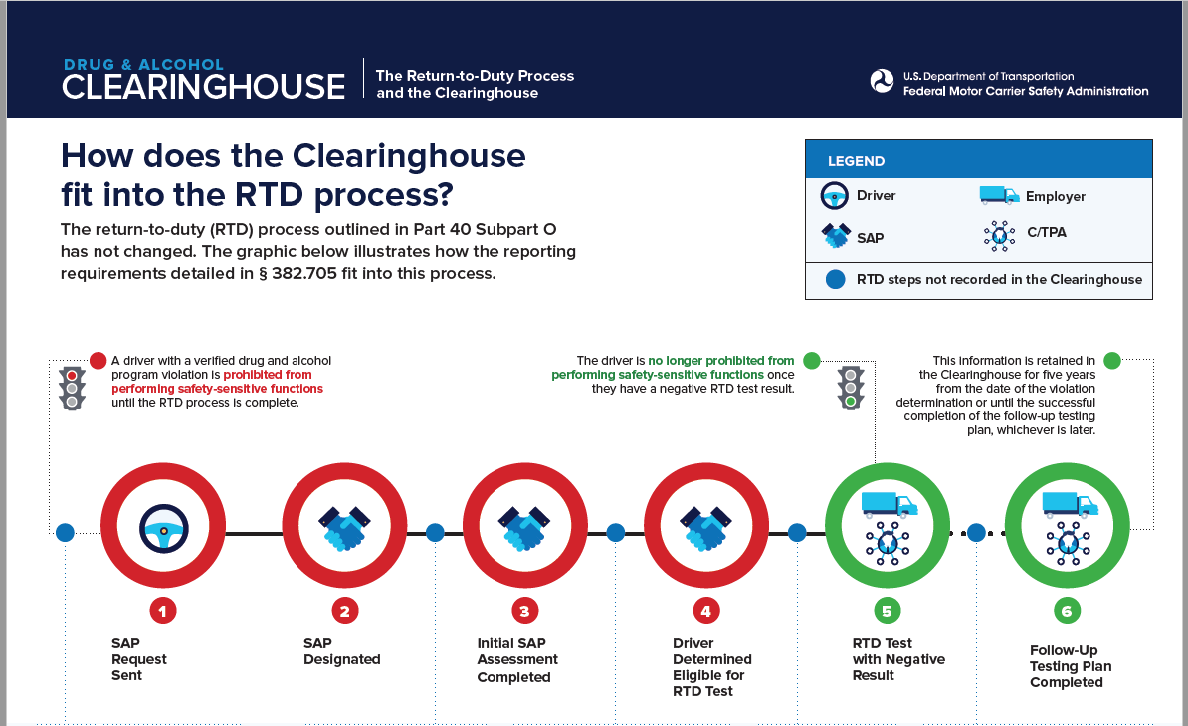 What Happens if I Fail a DOT Drug Test

The US Congress recognized the need for drug-free transportation for public safety. . The Omnibus Transportation Employee Testing Act was passed in 1991. All DOT agencies must now test their staff for drugs and alcohol. A DOT drug test is a state drug test (DOT). Every DOT-approved drug test involves urine. However, there are additional drug testing options.
Purpose of DOT Testing
Safety-sensitive workers are subject to the DOT drug test to ensure they never drink alcohol or use banned drugs while carrying out their duties. To achieve this goal, some actions must be avoided.
When can a DOT Drug test is administered?
While most individuals know pre-employment testing, random drug testing is also more mysterious. Random testing is designed to be genuinely random. Each employee should have an equal opportunity to be examined without bias based on existing performance. You'll need to put up measures to track who's been tested and update their results. In addition, they must be tested multiple times within the first year of returning to work.
The substance abuse professional (SAP)
The DOT provides services to the traveling public, employers, and employees. Substance abuse professionals (SAP) do the assessment that needs an employer's attention in dealing with commercial drivers. SAP's decisions and recommendations are final, and neither the employer nor the employee has the right to appeal them.
An employee who breaches the DOT drug testing requirements is prohibited from working for any company in a safety-sensitive position until the SAP grants a full assessment and return to work follow-up assessment. The SAP will also need a follow-up assessment after the employee returns to work and a drug test upon returning to duty. The SAP must require six follow-up examinations within the first 12 months of returning to service, at a bare minimum. However, additional follow-up tests may be needed for up to five years. The SAP's decision on whether to conduct additional testing is final.
When it is compulsory to do DOT
Pre-Employment: before commencing work.
Suspicion: A qualified supervisor suspects a change in appearance, conduct, or ability to do the job may be linked to alcohol or drug abuse.
Coming back to duty: following a drug or alcohol test failure.
Post-Accident: If you are engaged in a DOT-approved accident
The exact 5-panel test is used for all DOT drug testing. It measures
Marijuana metabolites
Cocaine metabolites
Amphetamines
Opioids
Phencyclidine (PCP)
What if a driver failed the drug test?
Your employer will be required to promptly remove you from any DOT safety-sensitive jobs if you fail your drug test under the Department of Transportation's requirements. Besides, there may be other ramifications, such as losing a license or certification. This is entirely dependent on the contract of employment or policy of the organization.
Do you need Substance Abuse Professional Services?
After failing the drug test, the driver needed to book an appointment with a Substance abuse professional (SAP) to get the initial assessment, meet the recommendation in the first assessment, and then get the follow-up assessment. Edmonton Counsellings Services provides addiction therapy and SAP services in Edmonton.