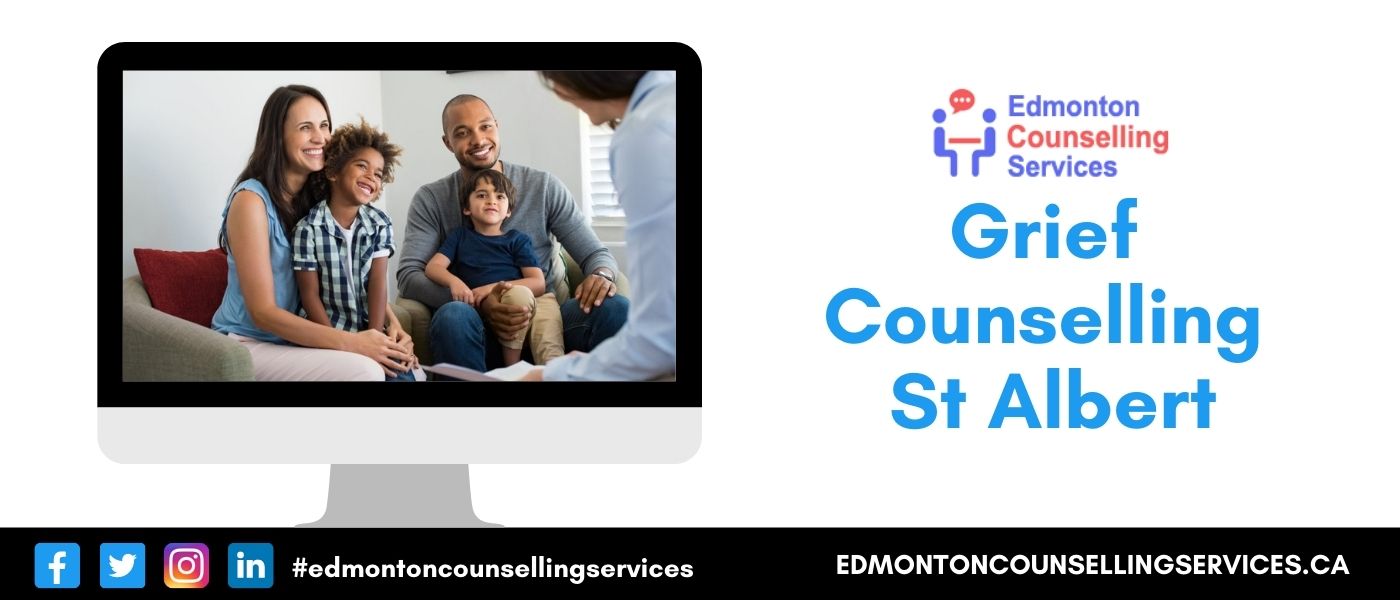 Grief Counselling St Albert
Grief counselling or bereavement therapy is to help bereaved people to cope with the loss of their loved one. A Grief counsellor can help you to learn the methods and techniques. That you can use for coping with your loss. However, Grief counselling is also helpful for bereaved people to discuss feelings and emotions to ease the process of grieving.
Grief counselling can be helpful for anyone who lost a loved one. Below are some challenges that can be resolved with grief therapy.
When its hard to carry on
Cause issues in a current relationship
Having a feeling of guilt
Having depression and anxiety
If your loved one is facing the above challenges then you must seek help from a professional mental health counsellor.
How can grief counselling help you?
Grief counselling can help you to cope with the loss of a loved one, it can teach you techniques and methods to stay calm and deal with your grief. It can also help a lot in the grieving process that will ease the pain.
Below are some common issues that you might face due to grief that grief counselling can treat.
Expressing emotions
Build terms for a new reality
Building support system
Addressing feelings of guilt
These can be very disturbing issues individuals might face during grieving. Grief counselling has the remedy to ease the process so you can take benefit from it.
How does Greif counselling work?
Greif counselling work for adults and child who lost their loved one, friends, family members, co-worker, patient, couples dealing with a miscarriage, people going through a traumatic event. Grief counselling helps you in many stages.
At First, the counsellor establishes a trusting relationship with the client so they can feel comfortable and then the counsellor creates an environment where a bereaved person can openly share their feelings and thoughts.
Afterwards, counsellors listen to all your thoughts and help to cope with the loss and help you to overcome the guilt.
What are the grief counselling techniques?
There are some common techniques of grief counselling below that counsellors use to counsel bereaved persons.
Addressing feelings of guilt
Taking about a deceased person
Distinguishing grief from trauma
Addressing feeling of guilt: People feel the guilt of not doing things while their loved one was with them and did things that might hurt them. Counsellors help a person in letting go of the guilt so they can overcome and make peace with it.
Taking about deceased person: When people lose their loved one they need to talk about their loss and the counsellor helps in listening as well as they help them in grieving and suggest them some exercise to keep their nerves down.
Distinguishing grief from trauma: Individuals go through traumatized memories with their loved ones, and grief counsellors help them to reframe their relationship with the deceased so they can have healthier grieving.
Online Greif Counselling St Albert
You can book online grief counselling with our professional and start taking counselling sessions at your home on mobile/laptop. Online counselling is an effective solution for the deceased person. When they are not able to go anywhere or feel like going outside. Grief counselling can help them to understand and reshape their thoughts and give them hope of a fresh start. You can book an online session with our professional with the below button.