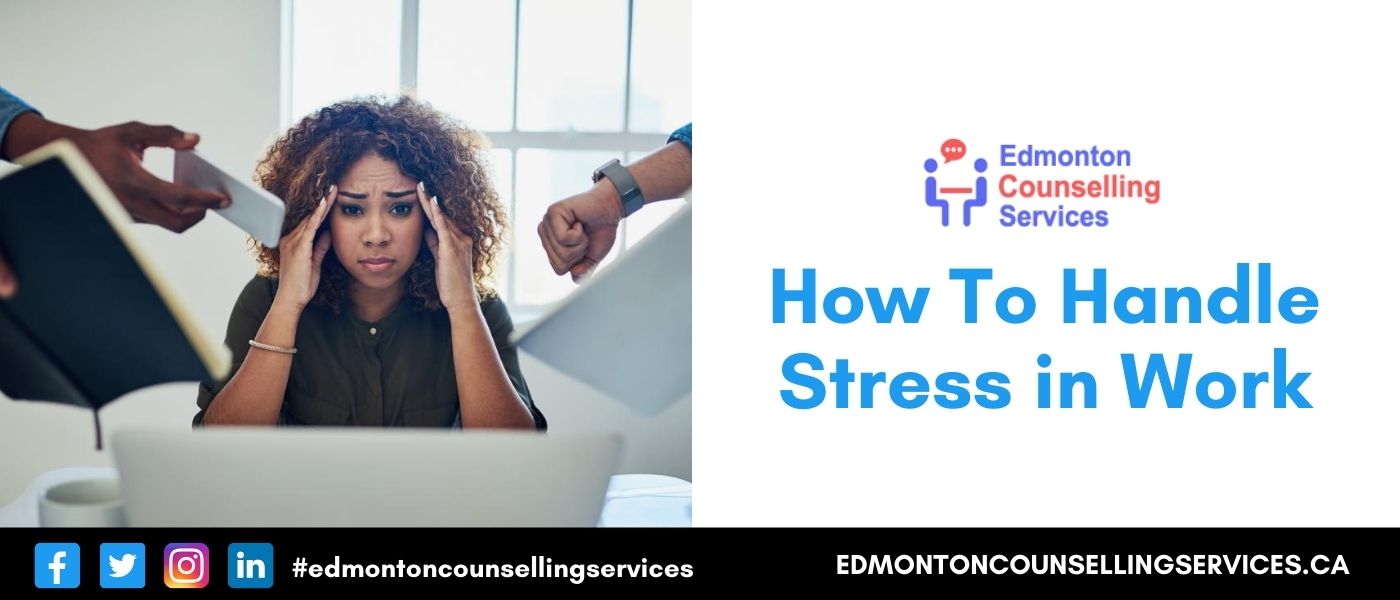 In this article, we'll read about How To Handle Stress From Work or How To Manage Stress at Work. Morden day business professionals have more projects in line, and they get interrupted and distracted at work and face stressful situations in the workplace.
Sometimes it kept them awake at night and wondering about the stress of work. Search shows that using stress management & work-life balance techniques can help you reduce your stress up to 99% at the workplace.
How To Handle Stress From Work
Handling stress at work is easy when you use a common technique of stress management & Work-Life Balance.
Act Rather Than React
Acting rather than reacting is the right way to deal with work stress; below are some tips towards Action Vs. Reaction.
Tip1: You can control other behavior so let it go instead of thinking why they should have said or not.
Tip2: Thinking about work won't get it done by time. So, "Stop thinking and start doing."
Tip3: Little overtime will not hurt more; overtime seems overrated while doing it little every day can save a considerable amount of stress in the future.
Tip4: Take a deep breath and take frequent breaks
Tip5: Ask for help from the upper hierarchy they will guide you the best
How To Handle Stress and Pressure in Work
Below are five tips that you can use to handle stress and pressure like a ninja in the workplace. These tips are efficient, and you can stay calm under pressure and stress.
Tip1: Stay Cool and Calm by taking a deep breath
Tip2: Do what needs to be done and stay focused on it
Tip3: Stepaside negative thoughts and stay positive
Tip4: Don't hesitate while asking for help
Tip5: Say the Mantra "Everything is cool & Fine."
How To Manage Stress At Work
Managing stress at work with stress management can help you to control more quickly. It is like having a recipe and implementing it.
Below are some managing tips that can help.
Tip1: Conflict is going to happing in the workplace anyway. So, try to avoid continuing conflict and punitive responses.
Tip2: Trusting in your organization and work will give you surety to reduce indirect stress.
Tip3: Time management is essential because irregular work can create stressful situations.
Tip4: Taking Frequently breaks and doing muscles exercise can reduce stress immediately.
How To Handle Stressful Situations In The Workplace
Stressful situations in the workplace can make you stressful, and without having stress management skills, you can make the wrong decision. But don't worry, the below tips can help you handle stressful situations Like a boss.
Tip1: Identify the source of stress in the situation once you know that you can handle it.
Tip2: Stop avoiding stressful situations instead of trying to handle
Tip3: Avoid conflict and keep yourself aligned and calm
Tip4: Do not panic in stressful situations; take a deep breath and repeat, "it is cool, and it will pass."
How To Handle Stress In Workplace
Using Stress Managing Methods can ease the process of handling stress. You can use the below methods and use them while feeling stressed.
Tip1: Stay organized and keep your emails, desk clean.
Tip2: Try to find physical comfort in the workplace
Tip3: Avoid Multitasking and stay focused on a single task
Tip4: Don't go for perfection aim to complete
How To Manage Stressful Situations At Work
Stressful Situations are expected at work, and managing them is also easy; with the help of Managing techniques, you can handle stressful situations like a pro.
Tip1: Identify why you get stressed in specific situations
Tip2: Don't think of stressful situations as stressful take them lightly
Tip3: Tell yourself it's okay to be stressed, but it will pass
Tip4: Use the "3-Second-Deep Breaths" Technique.
How To Reduce Workplace Stress
Reducing Workplace Stress is hectic, but you can instantly learn stress management techniques to reduce stress. These tips are the ultimate for reducing stress.
Tip1: Use breathing in-out technique on heating movement
Tip2: Avoid conflict in the workplace
Tip3: Stay positive and focus on work
Tip4: Give yourself some free time
These tips helped lots of people to resolve stress issues. You can take benefit.
Out of control stress keeps you wondering, Book An Appointment with a therapist to get professional help.
I hope these tips about How To Handle Stress From Work or How To Manage Stress at Work.