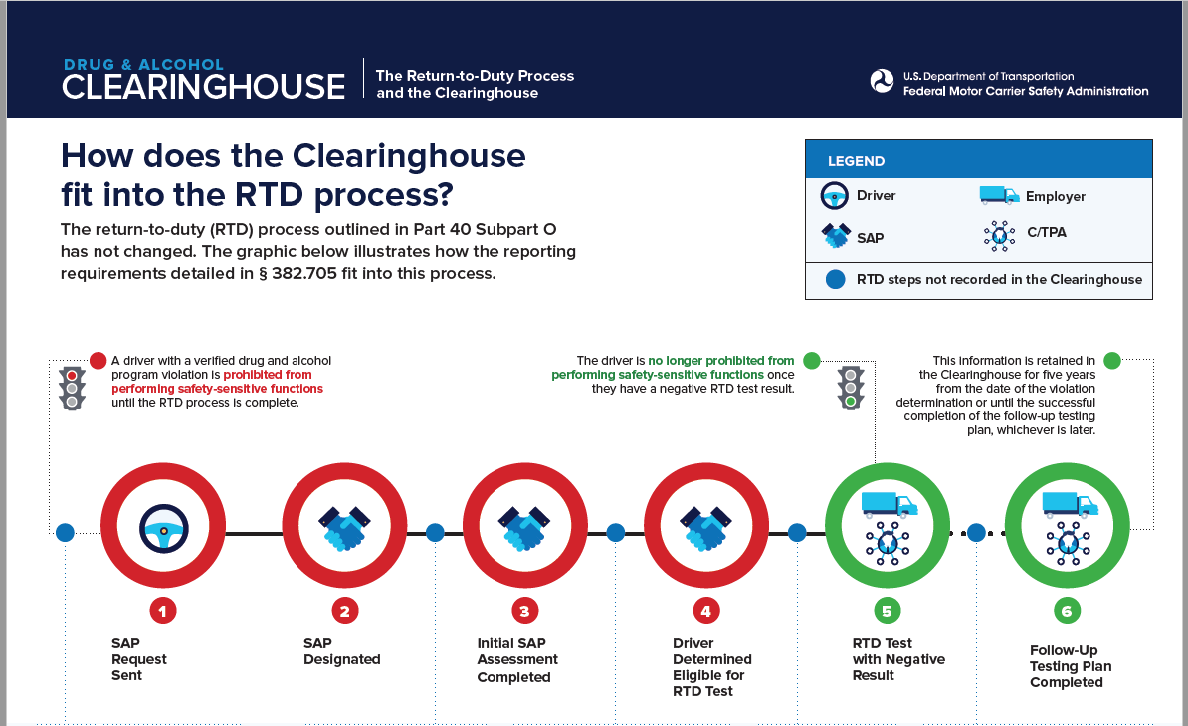 What Happens When You Fail a DOT Drug or Alcohol Test?
The Return to Duty SAP process: The Department of Transport or DOT would not allow you to remain in a safety-sensitive position if you failed a drug test. Before you return to your duty, it is crucial for you to complete the DOT process.
The Return to Duty SAP process
It involves a series of steps that an individual will have to go through in case of failing a drug test. The steps include:
1. An initial evaluation to be conducted by the Substance Abuse Professional ( SAP)
Substance Abuse professionals SAPs are authorized professionals who conduct an assessment and create a treatment plan to be followed up to return to work. They are well equipped to treat and diagnose disorders related to the use of drugs or alcohol. An SAP will have to evaluate the employee and create a plan for further proceedings in this step.
2. Treatment/education
The employee needs to abide by the treatment and education plan created by the SAP professional. There could be several inpatients, outpatient, and aftercare services to recommendations by the SAP, and one might even be asked to go through different education courses or associate with self-help groups.
3. A follow-up SAP evaluation
Based on an employee's education plan and treatment, the time gap between an initial and a follow-up evaluation may vary! In this step, the SAP declares that the individual has completed all the processes and is compliant too!
4. Return-to-duty test
After the step above, an SAP is called to determine what r the employee would just need to go through the follow-up steps. It depends on the individual's evaluation, and the individual needs to achieve a negative drug test result prior to returning to duty.
5. Follow up testing or ongoing treatment
Once the candidate passes the return to duty test, they would be eligible to return to the safety-sensitive functions. However, they might be called for follow-up tests in the first 12 months.
An employee is eligible to return to duty only when they have completed all the steps and passed them.
Which behaviors indicate DOT violation and encourage action?
A commercial driver must, under the SAp evaluation and DOT return-to-duty process, when he-
Has a positive result in the DOT drug test

Has a failure in the DOT alcohol test
The motor carrier knows that the commercial driver used a
Schedule l drug like marijuana); or

Non-Schedule I drug, affecting the driver's safe driving ability
According to a survey conducted back in 2018, 2.4 million DOT drug tests were conducted, out of which 2.7% came to be positive. Indeed, this process is difficult and expensive, but it is only when you and your employer determine the necessity of a DOT drug test that you must clear!
If you or your driver failed a DOT drug test and you need a Substance Abuse professional for assessment, please visit Then, visit https://edmontoncounsellingservices.ca/. Addiction counseling therapy is also provided for addiction recovery.
The Return to Duty SAP process Edmonton