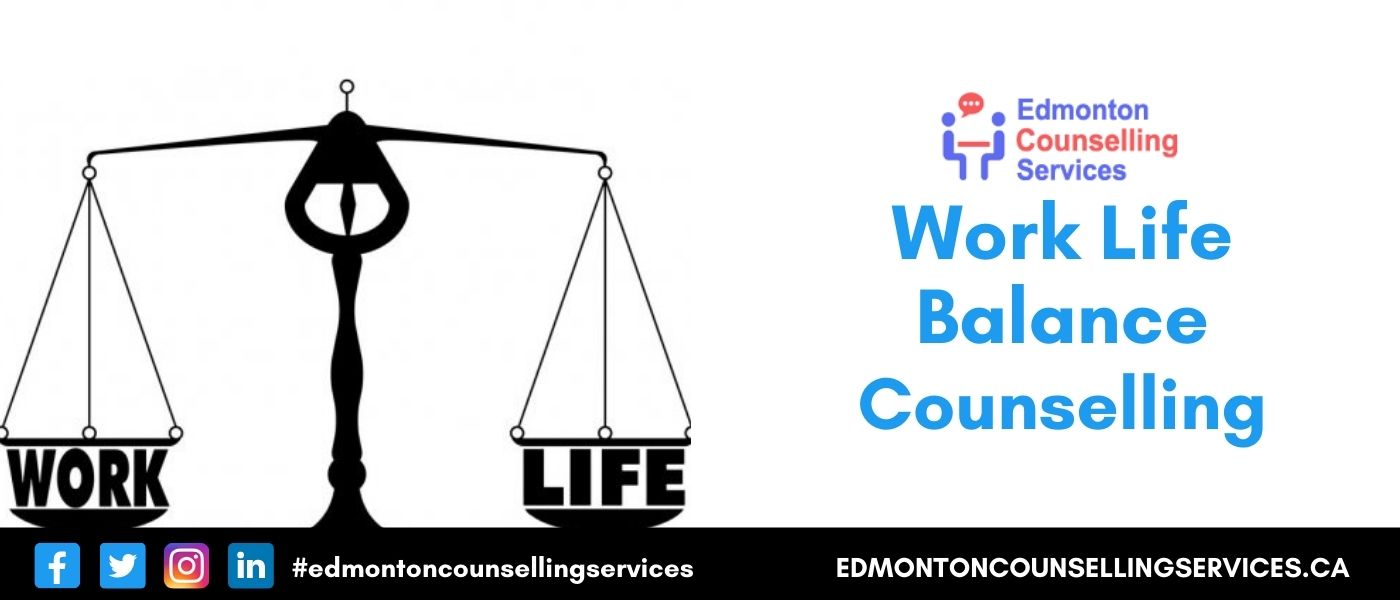 Work-Life Balance Counselling Edmonton
Work-Life Balance, Yes, we understand that admitting that the balance in your work and personal life is affecting you can be tough. In a world where having a career implies having to work on demand, finding balance in work-life is hard.
People are forced to work longer hours, and this seems socially acceptable. This makes accepting any disruption seem like a defeat, as a symbol of weakness in a dog-eat-dog world. We often end up equating ourselves to the work we do.
This makes accepting that you have a problem a huge first step. People often feel entirely alone and seek advice from sources that are not capable of handling their issues.
You can make an appointment at Edmonton Counselling Services. I can help you regain control of your life. I can help guide you through ways to better balance life and work by addressing your concerns.
Work-Life Balance Therapy
Before considering how I can help you maintain a work-life balance, it is essential to understand what it means. Work-life balance is a concept that simultaneously incorporates the ability to manage work requirements and family life. While you need time for yourself, it is also essential to invest time with your loved people.
Often with the flow of work, you may experience periods of intense stress and workload. While you are busy with work, it is easy to lose track of your priorities in life. At Edmonton Counselling Services, I can help you learn ways to manage your workload and improve your communication skills effectively. And, you can understand how work stress affects your family. During the sessions, you can learn to re-balance your work and personal life commitments to enable you to lead a happy, healthy life.
How do unbalanced work, life affect individuals?
While people generally think of disrupted balance in work and family life as affecting family, it affects you personally, too. A hectic work schedule is likely to cause much stress and worry for you. Moreover, it may leave you no time for engaging in social life or to pursue your hobbies. These stresses are generally also linked to reduced motivation at work and frequent job changes.
When you're unable to partake in these activities, you are more likely to be dissatisfied with your job. During sessions, you learn better to manage your time to enhance your quality of life.
How does disrupted work, life affect couples?
Work-related stress has become one of the biggest causes of conflict between couples in the modern-day. If you find that you're constantly bickering with your partner, it is a sign that you may need counselling. When you are under stress, you likely carry that stress into your home sphere.
Instinctively, partners often try to help out, but they don't have the skills to do so. This can often lead to hostility and hurt feelings in both you and your partner. People with high-stress jobs often find little to no time to dedicate to their families. While you may provide for the ones you love, the time you spend with them is invaluable.
Time is the only way to build stronger bonds with the ones you love genuinely. At the program, I offer communication improvement kills counselling services for dealing with interpersonal conflicts. This can help you understand better means of communicating with your partner to develop stronger bonds.
When should you see a Therapist?
Many people fail to realize that therapy can also be helpful to learn balance in your life. If you are feeling burnt out in a high-stress job, it can be a good idea to go for therapy.
It would also be beneficial to see a counsellor experiencing discord with your partner or experiencing issues in your relationship due to high-stress levels. You can see a therapist and book a counselling session without a therapist who will help you learn work-life balance techniques that will help you deal with work and life to maintain the balance between personal and professional life.
Online Work-Life Balance Counselling
Unbalance work and life and destroy the peace of your mind, and it can give you a hard time. An unbalanced lifestyle leads you towards failures in life, and it can also break your relationship, marriage, and family. People are so busy trying to achieve their dreams but lacking in social life, losing lots of close ones and friends around.
But when it starts affecting your family, its life becomes a living hell. It can increase anxiety depression levels in your life.
Online Work-Life Balance Counselling is the particular therapy that suits your busy lifestyle, and it helps you to maintain the balance between your professional life and personal life. Online counselling sessions are highly effective, and you can take these counselling sessions from your home & in your free time.
You don't have to go anywhere to see anyone for a counselling session. You can take the session on your mobile phone or laptop. All you have to do is book an online counselling session with our counsellor with the below button.
Online Work Life Balance Counselling
Work-Life Balance Course
Today, we all are busy in something trying to creating something, trying to become someone. But when it comes to maintaining our life, we don't have any professional expert who can understand the pressure of work and life other than ourselves.
That's why our Work-Life Balance course is built with the material and strategy, and self-help techniques that teach you how to maintain your professional and personal life so you don't have to feel that no one can understand you better than yourself.
After taking the course, you'll understand how you can easily manage your work & life without losing yourself in maintaining balance. To take the work-life balance course, click on the below button and purchase the system with the running discount.