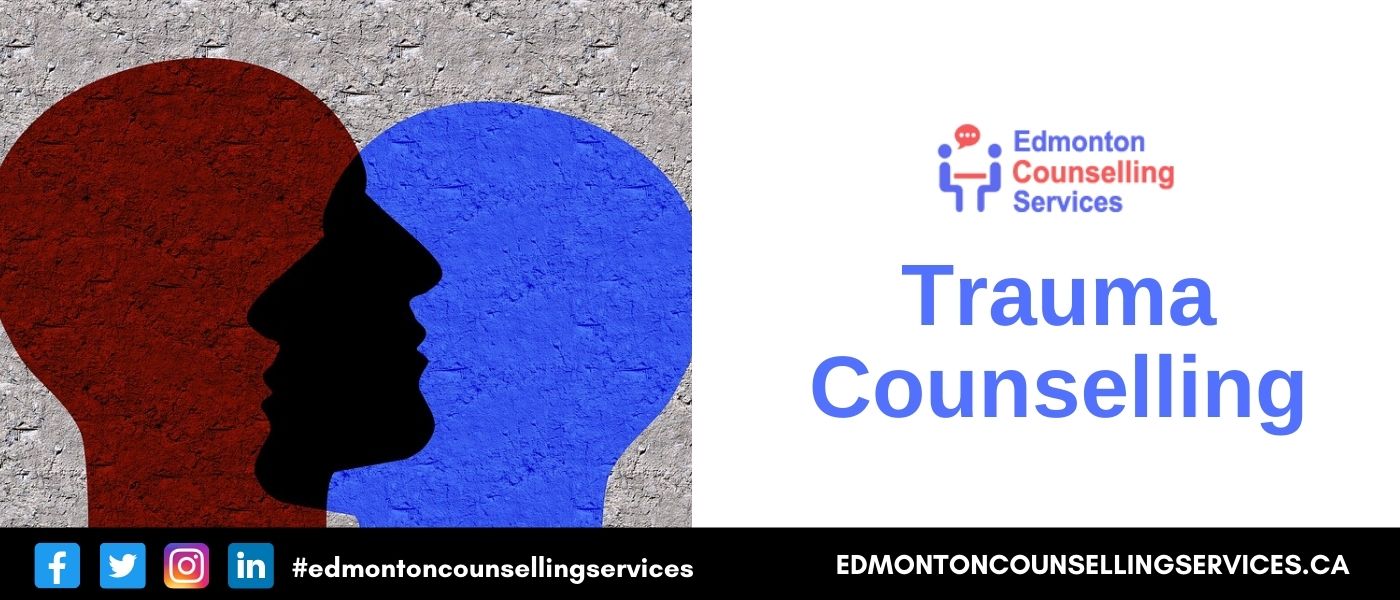 Trauma Counselling Edmonton
Post-traumatic stress disorder (PTSD) Is a problem in which mental health arises from a terrible event that a person may have experienced or seen themselves. These incidents include falling from a height, road accidents, losing, getting stuck somewhere. Symptoms of this disorder include dreams, high anxiety levels, flashbacks, and persistent thoughts about the event, making it difficult to live normally.
We provide private and confidential Trauma Counselling Services in Edmonton. We help men and women both deal with their trauma issues so they can live everyday life.
PTSD/ Trauma Counselling
PTSD /Trauma Counselling: Injury can be bothersome and distressing because of various events, and it can undoubtedly hurt people. Trauma can cause feelings of despair, helplessness by diminishing their sense of self and reducing the emotions and experiences. There are no criteria to the state from that effects traumas can occur, but trauma can often involve abuse of power, betrayal, loss, and natural disaster. In some cases of trauma, people who lose their loved ones can affect many people in different stages.  Edmonton Counselling Services provides psychological counseling for trauma.
What can trauma do to you?
The symptoms of traumas include anger, denial, sadness, fear, shame, and these can lead to nightmares, emotional outbursts, insomnia, nightmares, and a negative mindset throughout. A person going through trauma may suffer from dizziness, headaches, appetite changes, headaches, gastrointestinal problems, and altered sleep patterns. With each symptom, the cause of shocks differs from person to person. People experience PTSD as the effects stay with them for more than a month. The symptoms of PTSD Do not even show in some people for the month together, and the symptoms can lead to panic attacks, suicidal thoughts, and depressions. In addiction, you will not be able to complete your daily tasks.
The two kinds of symptoms of trauma that affect people:
The Physical symptoms
When a person is going through trauma, it affects the body, and some physical symptoms show lethargy, paleness, fatigue, and poor concentration, and weakness. They can have a hard time with themselves because they are going through immense stress and panic attacks. One can go physically weak and start having health problems due to too much stress-causing lack of appetite and weakness. People with PTSD should manage to bring down their stress levels, so there is a balance. As soon as the physical symptoms start showing, you need to go to the doctor for proper medications.
The Emotional symptoms:
Trauma can affect sensitive people severely because it tends to affect your emotions badly. People can overreact, over-think and become emotionally unstable and experience traumatic disorders and behavioral changes. They will not ask for your help, and you cannot help them on your own because they will push you away. People with emotional symptoms phase out of conversations and tend to distance themselves from social interactions. To repair your emotional self, the first thing required is self-assessment that can help you recover faster.
Trauma Counseling can be  very effective
When you are caught up within yourself, your mind gets overwhelmed, and Trauma therapy could be beneficial. You need to open up and speak out all your feelings, and there is no better person than a therapist at the time. You can be relieved in talking about your beliefs, ideas, opinions, and more without being judged by the person sitting opposite you. Professional counsellors can be helpful in understanding, communicating, with their clients. You may seek professional help to come out of trauma; then, you must go to the best counsellor who specializes in working with people in trauma.
Patients with acute trauma and lesser are reported with experiences such as being on edge, intrusive memories, jumpy, shame and guilt, sadness, anger, disappointment, and emotional numbness. A person with trauma may start taking drugs and alcohol, and sometimes it could be mean coping with them. However, the ill effects of trauma affect an individual`s mind and body, and if you are sensing any of the symptoms, you can seek therapy.  At Edmonton Counselling Services, Bharat Sharma is a Master's Practitioner in clinical counselling, and provides counseling for trauma and PTSD. Edmonton counseling services are located at 2923 66 St NW, Edmonton, AB T6K 4C1, Canada. Feel free to book your online appointment by clicking the below button.
Request an Appointment
Trauma Counsellor Near Me
If you are looking best Trauma Counsellor nearby, then you can find it through the below button. Once you click on the below button, you'll see the list of best Trauma Counsellor around you. You will get the contact details and a map to visit their office or you can call them and book your appointment too.
Online Trauma Counselling
Online counselling can be effective when you are facing trauma, and you don't want to go in person either because of commute or too anxious to talk in person. You can take online counselling benefits to learn how to deal with your trauma issues. Because it is essential you take care of your mental health when you are surfing from stress, anxiety, anger issues and want to take online Trauma Counseling, you can take it by booking an appointment through the below button.
Online Trauma Counselling
Trauma therapist near me, trauma therapist training, trauma therapist online