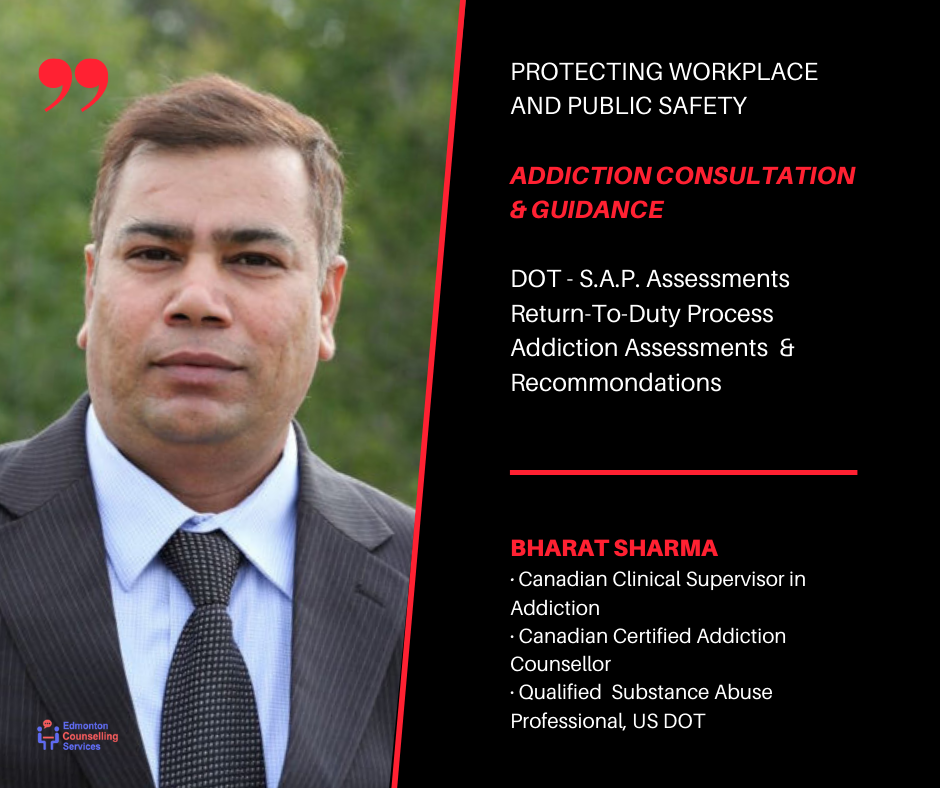 Substance Abuse Professional SAP Edmonton, Alberta
Substance Abuse Professional (SAP) evaluates individuals who have violated a D.O.T. drug and alcohol program regulation and recommends education, treatment, follow-up testing, and aftercare needed.
To find out more information about the return to duty process and D.O.T. regulations, I refer you to go to www.transportation.gov/odapc/sap
Addiction does not discriminate, it's hard, and it is a vicious cycle. Addiction can be scary and intimidating to seek professional help, but doing so takes courage and is a better future step.
Bharat Sharma (MPCC, R.P.C., CCAC, D.C.A.) is a Master Practitioner in Clinical Counselling, Canadian Clinical Supervisor (Addiction), Mental Health Clinician. He has over ten years of experience working in hospital and community addiction settings.
Bharat specializes in safety-sensitive workplace Assessments, Fit for Duty, and return to duty processes in private practice. He is recognized as a Canadian CERTIFIED SUPERVISOR IN ADDICTION in Canada and a Substance Abuse Professional through the UNITED STATES Dept. of Transportation.
Bharat Sharma at Edmonton Counselling Services provides a full psycho-bio-social assessment. Assessments determine the client's treatment options, so the person gets the correct type of treatment, and there is a higher success.
There are various reasons why an individual may need an assessment without entering our treatment.
SAP Online Assessment Test
Substance Abuse Professional (SAP)ASSESSMENTS NEEDED FOR LEGAL purposes:
Many clients seek substance use disorder assessments because of court orders such as child custody or alcohol and drug charges.
Edmonton Counselling Services can provide that assessment for you. All court documents must be brought in for your appointment to deliver the type of evaluation the court requests.
A Qualified Substance Abuse Professional must provide D.O.T. (Department of Transportation) SAP assessments. Edmonton Counselling Services has Certified Substance Abuse Professionals.
An SAP assessment can only be provided by an S.A.P certified counsellor to be valid. Once you start with an S.A.P accredited counsellor, you must continue with that S.A.P. accredited counsellor.
Substance Abuse Professional D.O.T.
If you work in a safety-sensitive career such as a bus or truck driver, train conductor, pilot, heavy equipment operator, or any other job, the D.O.T regulated. In that case, the person is subject to random urine, alcohol, and drug testing. And if the person tested positive, he/ she must stand down from that safety-sensitive job until you have been cleared to return to duty by the S.A.P assigned to you.
The D.O.T. requires all S.A.Ps to register with the D.O.T. clearinghouse. All employees that test positive must report with the D.O.T. clearinghouse as well.
Substance Abuse Counsellor Certification Online
Edmonton Counselling Services completes a full bio-psycho assessment to decide each client's treatment level before making specific treatment recommendations.
Only through a clear clinical judgment is the person seeking addiction treatment to obtain the best treatment level possible. D.O.T. Assessments: Department of Transportation mandated assessments can be done from Edmonton Counselling Services. Since January 1, 2004, D.O.T. assessments must be done by a Qualified Substance Abuse Professional (certified S.A.P).
SAP Certification Online Appointment
D.O.T. referrals: If you have already received a D.O.T. assessment, we can provide the education and treatment program required by the referring substance abuse professional.
If you have become addicted to substances, your judgment regarding your condition's seriousness has undoubtedly been impaired. In most cases, the addicted or alcoholic person is in serious trouble long before he or she begins to wonder if there may be a problem.
Substance Abuse Professional Near Me
If you are looking for a substance abuse professional nearby, we can help you find one. Well know you know the nature of Substance Abuse assessment, then finding a certified counsellor is hard. You can contact us at any time. We'll be glad to help you get the SAP assessment.
But if you are far from us, you can still take an online session where we'll help you understand the SAP Assessment, and after that, you can take the SAP Assessment interview and testing. Once you did the SAP Assessment, we can provide you with an initial assessment and send a copy to your employer with the recommendations.
If you like to attend the assessment in person, you can take it through the below link. With the help of this link, you'll find the certified counsellors' list and their contact details.
Alcohol Addiction Counselling
If you are suffering from alcohol addiction and trying to control your alcohol craving on your own and failing all the time now, you want to get rid of this addiction habit.
A Survey conducted by an Anonymous Organization found who help people to leave their alcohol habits. They found that 87% of people who sought professional help will leave the alcohol addiction earlier. They recovered faster than those who tried to quit the alcohol addiction alone.
To know more about alcohol addiction counselling you can go to our page The Best Alcohol Addiction Counselling Session.
One Step Ahead Addiction Counselling
Edmonton Addiction counselling helps lots of people to become an addiction-free person. These people who were Alcohol Addicted, Drugs addicted, and gambling addicted now live everyday life. They started their counselling session and followed the instructions of addiction therapists who taught them unique techniques that help them control their addiction. Now, they can easily break the habit of addiction.
If you like to know more about our one-step-ahead addiction counseling session, go to this page. One Step Ahead Addiction Counselling