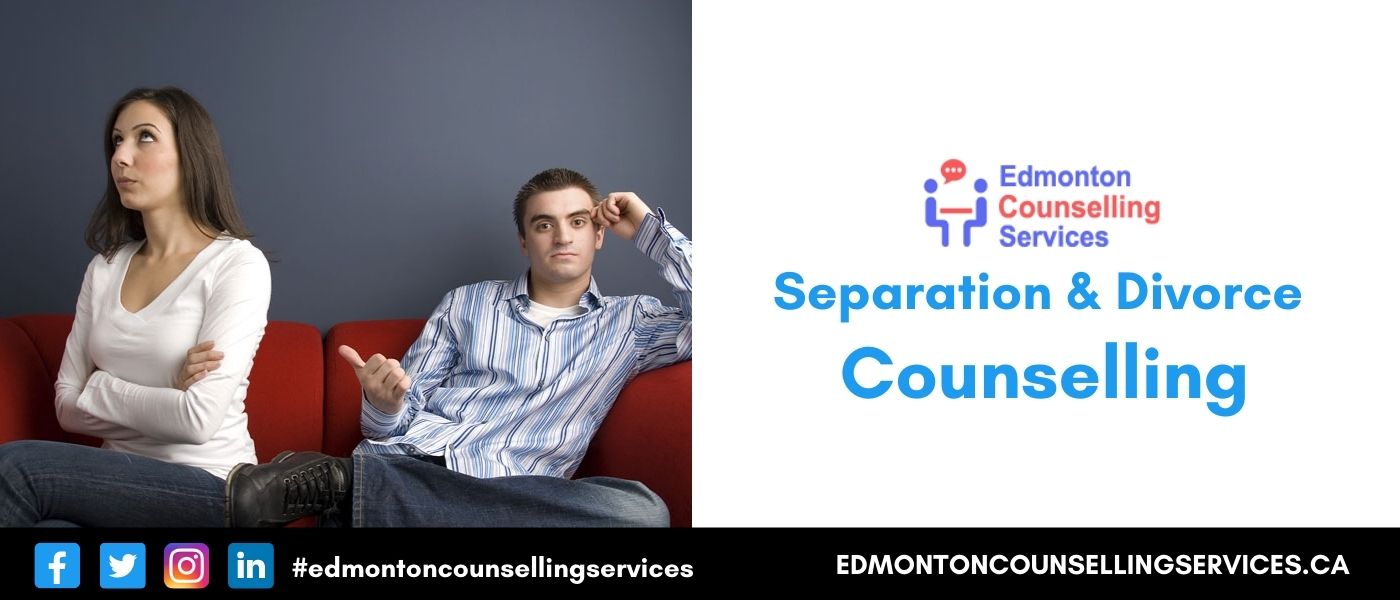 Separation Divorce Counselling Edmonton
Separation Divorce Counselling: A separation or divorce from your partner can seem like the end of the world. You may have been with them for many years and thought it would last forever. However, things happen in life that causes feelings and emotions to change.
You might argue over money, children, or lack of quality time together. In the worst-case scenario, your partner may have cheated on you. This is a common reason that people split from their partners. Any excuse for a breakup may leave you feeling sad and empty inside. This is not good for your emotional or mental well-being; that's why you should seek Separation, Divorce Counselling.
What Is Pre-Divorce Counselling?
We take this counselling before we become divorce; when there is a problem in our marriage life, A Pre-Divorce counsellor can help you and your partner to decide whether you want a divorce or not. In other words, they can help you to determine if you're going to prevent your divorce or not.
A pre-divorce counsellor can help you resolve any parental issues related to divorce. It tells you how your child and society will be affected by your divorce. In this counselling session, you'll learn how you can avoid it.
If you take a Pre-divorce counselling session, you can save your marriage too, or because a counsellor works as a mediator who helps couples open up and express their feelings and thoughts and help you find common ground.
What is Post-Divorce Counselling?
People take this counselling after the divorce; when they get divorced, they face much emotional stress such as sadness, anxiety, and grief. The truth is that life after divorce can be challenging; individuals do not have the same life as they had before the divorce.
This is why people want to go back to the same marriage life. Because it's very stressful and painful for them, they want to go back, but after divorce, things change. That's why Post-Divorce counselling is helpful to get over the emptiness or loneliness and start your life from scratch.
The good thing about post-divorce counselling is that it can guide you through the aftermath of your divorce. More specifically, divorce counsellors use various techniques to improve your self-esteem and self-confidence and accept reality so that you can reclaim your life.
Why need Separation or Divorce Counselling?
It only takes one partner to end any relationship. Either you have decided to end your relationship, or your partner has decided. In some cases, you might both come to this decision together. However, it is more challenging when just one person decides because it leaves the other partner distraught.
If there are children involved, too, then it is even worse for them. The entire family unit is breaking apart. How to handle this? There are tremendous stress and anxiety involved in that situation, and that's why it is recommended to see a counsellor for Separation, Divorce Counselling
The benefit of Separation or Divorce Counselling
Separation or divorce is not just a process of leaving one another. It is an excruciating movement when it happens in your life. Because you can feel emptiness, loneliness, stress, anxiety, anger, depression at the same time, and handling yourself can be hard on your own.
This time your friends and family may help you, but they can't see your Separation or Divorce cognitively because they are involved with you. That's why seeking help from professional counselling might help you.
There are many reasons that someone should take separation or divorce counselling.
Three main reasons that someone should go to a counsellor:
Need advice on how to handle your children during this split.
The individual considering separating or divorcing their partner.
You need help dealing with your sadness and emotions over it.
How does separation/divorce counselling help?
Most of all, you will understand why the relationship did not work out. Sometimes the confusion over why the split occurred can be the worst feeling to endure. However, once you realize what happened, you can make peace with it and move on.
Otherwise, you will continue to torture yourself over the breakup. Everyone deserves a chance at happiness. Even though this relationship didn't work out, it doesn't mean your next one won't.
When your Separation, Divorce counselling sessions conclude, you will learn to trust people again. Then you will have the motivation to move on and perhaps start a new relationship. Only this time, you will know which mistakes to avoid so that you don't repeat past failures. Feel free to book a session for Separation, Divorce Counselling.
Online Divorce Counselling Edmonton
If someone is not available to attend the Divorce Counselling in person for any reason. In that case, it can take counselling online at your home. Online Divorce Counselling is helpful when you seek instant help and don't want to go anywhere because we understand how it feels when a heart broke, and separation or divorce happens.
Don't let your separation or divorce overwhelmed you from living your life most total because that's not the end of life. You can start again, and you deserve to love again, be happy again. You may consider n to take a counselling session with a professional therapist who can assist you to move on from your situation or resolve the issues around your relationship to get back to a happy life.
You can still save your relationship from falling apart if you can learn to let it go and start from the beginning. Either way, taking advice from a counsellor will help you because a counsellor is the only person who can analyze your relationship and why it did not work out and guide you to heal yourself.
You can book an online appointment through the below button and schedule your online counselling session.