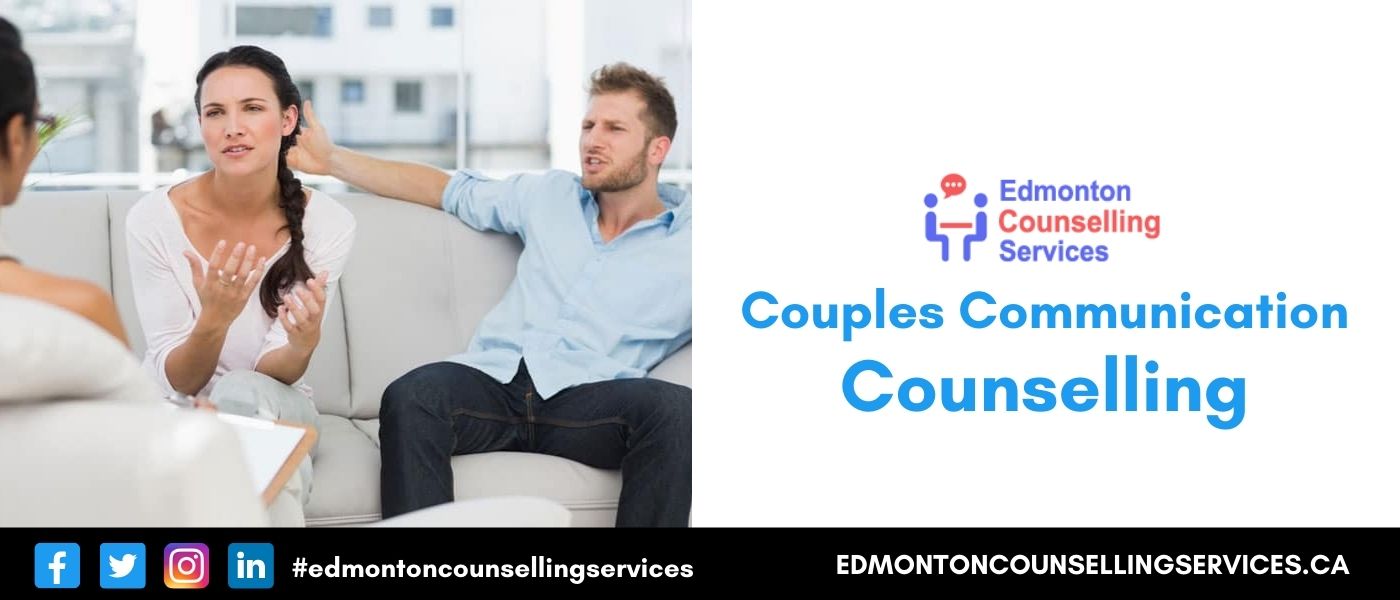 Couples Communication Edmonton
Couples Communication problems are the number one reason for the unhappiness that couples experience. Each partner wants to be right while the other is deemed wrong. The blame game is all too familiar to anyone who is married or has been in a long-term relationship.
One partner will attack the other partner by pointing out how they are wrong or the problems they are causing. Then, the other partner will respond by doing the same thing. It just becomes a trend of back-and-forth bickering that degrades the quality of the relationship. No couple should have to live like this
Issues with Couples Communication
There are many Issues with Couples Communication. Even if one partner is trying to make a reasonable effort to establish good communication, the other partner might make it impossible. If one partner refuses to listen or compromise during an argument, nothing will change for the couple.
The relationship will continue to have repetitive arguments that will hurt their feelings and hurt the feelings of their children if they have any. Don't forget that children listening to arguments may develop feelings of sadness and depression themselves. Keep this in mind the next time you refuse to come halfway in fixing the couple's communication problem.
If you face challenges in your relationship, then a couple's communication counselling may be the one thing that could save it. I am a registered psychotherapist who has helped dozens of couples sort out their problems and determine what they want out of their relationship.
Sometimes those relationships work out, while other times, they don't. However, the true benefit you get from couple communication counselling is quality communication with your partner.
How a therapist can help improve Couples Communication
As a therapist, I act as an unbiased moderator that asks questions and gives advice. My goal for each session is not to take sides but rather to assist couples in reconnecting with each other and understanding each other's viewpoints in the relationship.
As a couple's therapist, I always emphasize the importance of Couples' Communication. My sessions create an environment where couples are told to listen to their partners and have an open mind about what they're saying.
If a disagreement or conflict arises during a session, I am there to moderate and attempt to offer reasonable solutions that are logical and sensible for both partners.
I try to get couples to understand that trying to be right all the time or constantly trying to prove yourself is not necessary. If two people genuinely love each other, then that love is all they need to verify. Nothing else outside of that love matters in the scheme of things.
Couples Communication Counselling
The best way to improve your communication as a couple is by listening. How often do you offer to listen to your partner without being overly critical? If you just took the time to listen to their concerns, fears, anxieties, and worries, you might find that you won't be as judgmental of them. Instead, you will feel empathy and compassion for their feelings.
This is the beginning of rebuilding that special connection which brought you two together in the first place. My couple's therapy sessions can help you get started to improve the couple's communication skills. Feel free to book your appointment today.
Couples Communication Workshops
Workshops for couples' communication are how two people open up and start sharing their minds. That's why couple's communication workshops work pretty much every time. However, this is not the only solution there are many but, in the workshop, you get the chance to speak through your heart without being judged by someone and here a Couple counsellor helps you to express your feelings and emotions in the right way. He listens to both of you cognitively and allows you to listen to each other's thoughts.
A Couple counsellor is trained to balance the communication so no one feels left out or being unheard. That's why a workshop is the best option for you if you are looking for your relationship or marriage.
Online Couples Communication Counselling
Convincing your partner to go for a counselling session may be challenging because when you approach them to take a counselling session with you, they must deny or say I don't have any problems, or maybe they blame you for it.
But deep down, you know this is the only way to fix a relationship because a relationship where communication is not happening or fighting might end badly. That's why online couple's communication counselling is the best option to take a counselling session with your partner.
In the online session, you don't have to go anywhere to take that counselling session from your home in a quiet place on your mobile phone or laptop.
To book an online couples communication session with our professional physiotherapist click on the below button
Couples Communication Courses
Couples' communication issues are increasing rapidly there are many reasons behind but none solution for it. That's why we have come up with a resolution of creating a very interactive Couples Communication Course that will help you learn new skills and techniques of understanding your relationship's dynamic and how to communicate in the right way so your partner can know what you mean to say.
Communication is the only way that affects the relationship in both ways (Good/Bad). It's up to us how we react and treat each other. But as we are not aware of the right ways or techniques to expressing emotions and same time understanding others.
That creates chaos that kept us in deep misery.
The couple's communication Course will help you to learn about all the expectations of the couple's communication so the next time you talk to your partner you can explain things in a different ways.