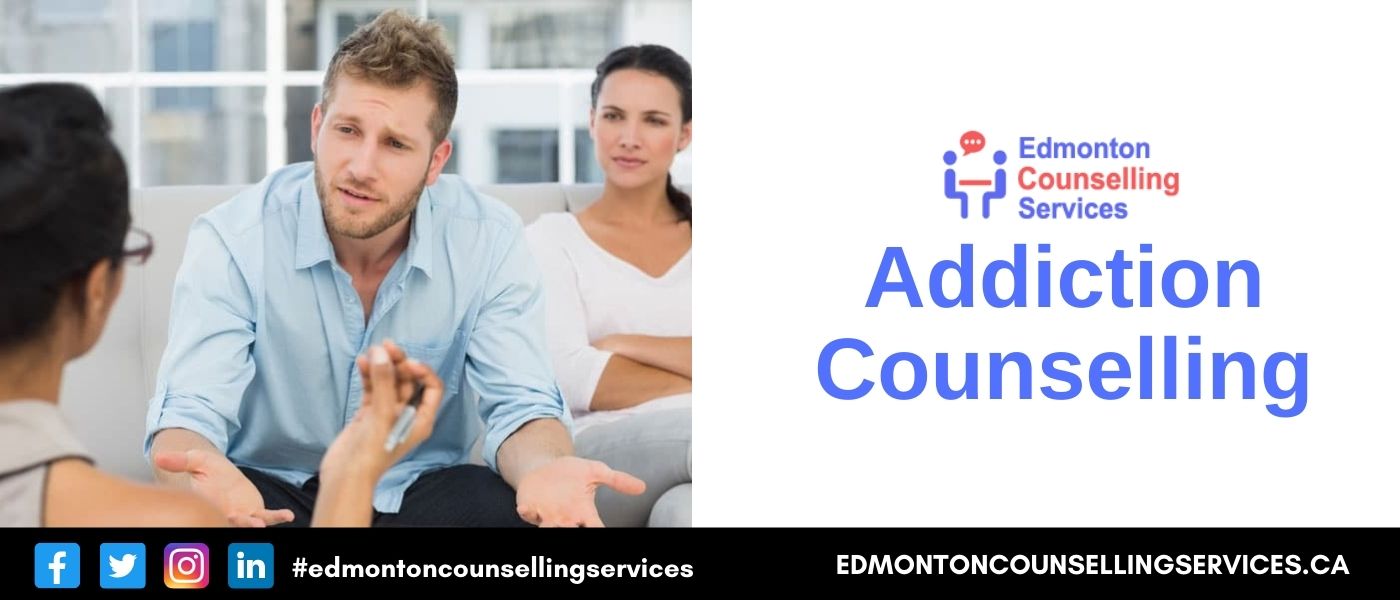 Addiction Counselling Edmonton
Edmonton Counselling Services' addiction treatment program, alcohol, and drug, involves the individual, family, and social and psychological environment. For over the past ten years, we have been providing Edmonton outpatient Addiction Treatment and Recovery Services. Hundreds of Edmonton Residents have come to Edmonton Counselling Services for addiction therapy, and upon completion, they return to their home community to lead stable lives in recovery. We provide private and confidential Addiction Counselling Services in Edmonton. We help men and women leave their addiction like drug addiction, marijuana, alcohol, and related issues.
What Is Addiction Counselling
Our Addiction Counselling sessions are focused on integrated therapy, and it has proven strategies, exercises, and activities that can help you resolve your addiction issues. Addiction Counselling also teaches how to prevent a relapse best. We help you with this by developing a custom addiction treatment plan to help you manage your problems in the best way possible.
Addiction Counselling is given by our expert of addiction therapy, clinical counseling. Bharat Sharma is a Qualified Substance Abuse Professional ( SAP), a Canadian Clinical Supervisor in Addiction, Master's Practitioner in Clinical Counselling. He specializes in safety-sensitive workplace Assessments, Fit for Duty, and return to duty processes in private practice for over ten years of experience in hospital and community addiction settings.
Gambling, Sex, Shopping, Alcohol, Cocaine, Opiate's addiction Counselling
Addiction Counselling, It's hard to get sober, and staying clean and sober tends to bring out issues that can be pretty difficult. We provide private, confidential ADDICTION COUNSELLING in Edmonton. At Edmonton Counselling Services, I help men and women to address their alcoholism, drug addiction-related issues. Besides, I provide Addiction Awareness Education for job-related, DUI, or other substance abuse problems.
Substance Abuse Counsellor in Edmonton
Substance abuse occurs when you use alcohol, prescription medicine, and other legal and illegal substances too much or in the wrong way.
It differs from addiction. In Substance abuse, people can quit or change their unhealthy behavior. On the other side, addiction is like a disease that you cannot stop using even when your condition causes you harm. To book your Substance Abuse Counselling Session or get a quick guide, you can contact us below Button.
Alcohol Abuse Counselling Edmonton
Many people are fond of alcohol, but it becomes a terrible thing for our family when it becomes an addiction. Heavy drinking also can cause liver and other health problems or lead to a more serious alcohol disorder.
Alcohol Counselling is an essential and valuable step in treating an alcohol use disorder. An Addiction counselor will be able to offer guidance and support along your journey to an alcohol-free life. At Edmonton Counselling services, you can get Counselling to help you with your alcohol addiction. If you want to learn more about Alcohol Abuse Counselling, click on the button to know more about Alcohol Abuse Counselling.
Best Addiction therapist Near Me
If you are looking for an experienced addiction therapist nearby, then you can find it through the below Button. Once you click on the below button, you'll see the list of best addiction therapists around you. You will get the contact details and a map to visit their office or you can call them and book your appointment too.
Best Addiction Therapist Near Me
Online Addiction Counselling Edmonton
Online Counselling can help you instantly heal yourself, and you should take online counseling for Addiction, where you'll learn about techniques to control your addiction habits and break the loop of addictions. If you want to take online Addiction Counselling, you can take it by booking an appointment below Button. You can take advice from our substance abuse Professional and get help in resolving your addiction issues.
What Do Addiction Counsellors do?
Addiction counsellors do work with their clients from diverse backgrounds who have various addiction disorders such as drugs, alcohol, and gambling addictions.  Addiction therapists help you to get rid of addictions like drugs, alcohol, and gambling.
DOES SOMEONE YOU LOVE SUFFER FROM ADDICTION?
As a specialist in ADDICTION COUNSELLING THERAPY, I empower individuals to resolve addictive behaviors via support and Counselling. I have an extensive working knowledge of diverse recovery approaches, including family recovery. IT feels privileged to help individuals with substance use disorders. We support their families to create change and enjoy productive, meaningful lives. As research shows, addicted individuals often struggle with additional challenges, such as trauma, grief, and mental health disorders. I recognize that quality ADDICTION COUNSELLING treatment must be comprehensive to include these issues and addictive behaviors. Counselling clients achieve it in individual, group, and family settings.
The hardest part about ADDICTION COUNSELLING is getting the individual to show up for Counselling. For that reason, it will help if family or partner come to the ADDICTION COUNSELLING session initially to support your loved one. After all, it is hard for an addicted person to overcome the addiction if the family or partners are unwilling to put forth the effort. If you suggest ADDICTION COUNSELLING to your partner, they may become defensive. The partner may say something like, "there is nothing wrong with me. I do not have a problem." However, if they truly care about saving the relationship, they will put aside their pride. You can support them and come to the ADDICTION COUNSELLING session out of their love and respect for them.
All sessions are conducted in a quiet environment where a person affected by addiction can express his /her feelings. I will be there to counsel you throughout the entire session. I'll also answer any questions you may have about what to do next in the relationship.
1 ON 1 ADDICTION COUNSELLING
In ADDICTION COUNSELLING sessions, in addition to treating substance use disorders, I treat co-occurring disorders, co-dependency, as well as stressful life transitions. I use cognitive behavioral therapy techniques, motivational interviewing, as well as principles of solution-focused therapy. I provide comprehensive client assessments as well as clinical supervision to other professionals in the therapy field.
Are you looking for ADDICTION COUNSELLING and guidance through a challenging situation, or you're just ready to move in a new direction in your life? Feel free to book an appointment, and I look forward to working with you to achieve your goals. I hold a Master of Social Work degree, and I have a certification as a Canadian Certified Addiction counselor and Canadian Certified Clinical Supervisor.
I am a CanadianCertified Addiction Therapist and a Canadian Clinical Supervisor (Addiction), and I will work with you to improve all areas of your life affected by addiction.
Evenings & weekend appointments are available. We offer direct billing to many insurance companies.
Edmonton Counselling Services is located at 2923 66 St NW, Edmonton, AB T6K 4C1 (Behind Grey Nuns Hospital).
Feel free to book your appointment for private Counselling online.
Drug addiction counselling, addiction counselling courses, sex addiction counselling