Features
Instant certificate upon completion of course requirements
Quiz for self-assessment
Work on any device
24 hours a day, 7 days a week available
Start anytime, self-paced
Overview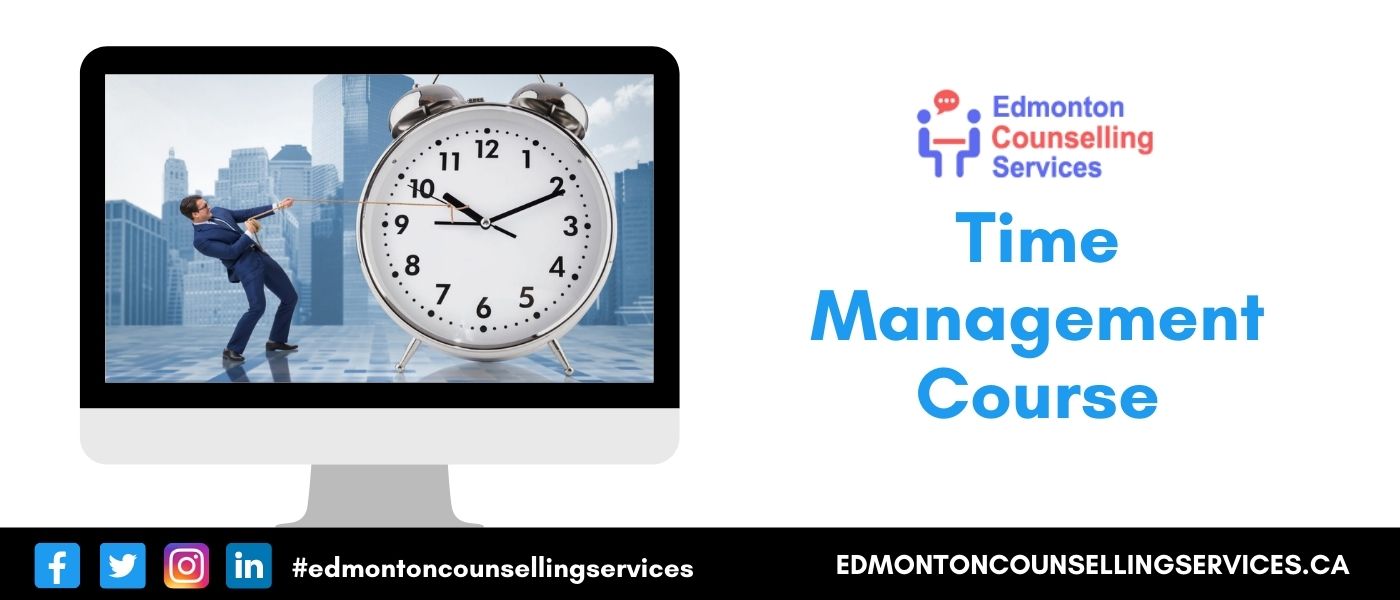 Online Time Management Course, Edmonton, Alberta
Time Management is essential in our life; as the Morden world has many distractions and busy lifestyles, it's hard to manage your time. And because of unbalanced time. You lose so many years of your life working and are distracted from what you don't want to do. Online time management course helps you learn time management skills that you can use to manage your time and create extra time to enjoy with people whom you love or do things you want.
Time Management Is Invaluable
Time management is something that most of us wish we were better at. As a child, you undoubtedly heard pretty much every adult in your life lament that there aren't enough hours in the day. At that age, time was a very different reality. An hour was forever, which made school incredibly "fun."
As an adult yourself now, you get it. There aren't enough hours in the day, after all. You might find it impossible to manage your time to get everything on your plate done while giving everything the attention and care it needs.
Online Time Management Classes
Online Time management classes are helpful for learning time management techniques that you can use to create your time routine. It is worth noting that modern society probably does place too many demands on most people.
Hopefully, changes in society will remedy this in the future, but we can't count on that. In the meantime, learning proper time management will go a long way. Along with many other courses available here, time management is absent from most schools' curriculums, which is just baffling.
A school can waste hours of a student's time memorizing dates and teaching them to diagram sentences. Still, they can't teach them useful things like time management, conflict resolution, or managing finances.
What goes into time management?
Time management is a complicated thing, hence why we have an entire course on it. Due to the limited space, we can only get into so much of it here. At its core, time management is all about knowing exactly how much time you have any day. This is factoring in setting aside time for personal needs.
How does Time Management Course help?
Sometimes you feel overwhelmed with the responsibilities and how much time you need these things with the proper attention and care. You will find that you probably don't have enough time for all of them, and that's when it's time to start trimming the fat. Some of these responsibilities may be unnecessary or may not need your immediate attention as you think.
This is where prioritization comes in. What are the things you absolutely must get done every day without fail? These are the things that should be prioritized, with lesser things potentially rescheduled or broken down across a more considerable amount of time they are usually given.
Is Time Management Course Worth it?
Time Management Course teaches you how to prioritize correctly so you won't lose things vital to you. A prime example of this would be, obviously, your professional obligations must be met every day. Your family obligations must also be met every day. These are things that you would prioritize.
However, other things that demand your attention, such as mowing the lawn, staying caught up on world events, etc., can probably wait. You can do something a little bit over time and catch up with them when you have a moment to brief.
These are elementary examples, as your need for time management probably pertains to having entirely too much on your plate within your professional or family life as well. Still, it gives you a sense of what prioritization entails.
12 Modules of Online Time Management Course
Module 1: Getting Started with Time Management
Module 2: Setting SMART Goals
Module 3: Prioritizing Your Time
Module 4: Planning Wisely
Module 5: Tackling Procrastination
Module 6: Crisis Management
Module 7: Organizing Your Workspace
Module 8: Delegating Made Easy
Module 9: Setting A Ritual
Module 10: Meeting Management
Module 11: Alternatives To Meetings
Module 12: Wrapping Up with Time Management
Benefits of Online Time Management Course
• Instant certificate upon completion of course requirements upon request.
• Quiz for self-assessment
• Start anytime, self-paced,
• 24 hours a day, seven days a week available.
• The course can also be taken on any device; desktop, Laptop computers, Smart Phone, or Tablets that have access to the Internet.
Online Time Management Course Fees
Price: $198.00
Instructor
FAQs
Yes, you can take this course online
You have to complete the requirements of this course to get certificate.
Yes, your employees can learn a lot from it.
Yes, you'll get the running discount which will automatically show when you purchase the course
Yes, this course is helpful for students as well.